Jack Nicklaus Apparel Fall 2012: Inspired by JACK
View the Fall 2012 Look Book - 5MB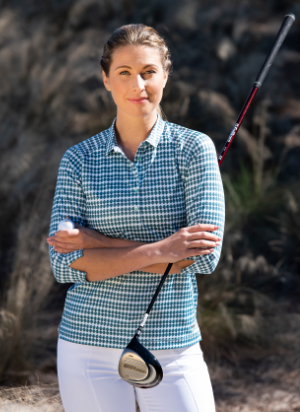 The Jack Nicklaus Fall 2012 Collection is once again inspired by Jack himself, as well as the rich heritage associated with the game of golf.
Again, we have strong assortments across all product categories and products with many benefits and features within the product, as well as within the designs themselves.
A classic men's palate of Navy, Black, Red and White is further evolved with the addition of Cobalt Blue, Shiraz, Dark Turquoise, and accents of Lime, creating an overall palate with a luxury and sophisticated feel. Colors have been used and combined to create both classic and sporty looks.
Double mercerized cotton polo shirts come in an array of patterns as well as long sleeve options.
The Cool Plus collection features a broad selection of patterns and color combinations, further evolving the performance category while still maintaining the performance attribute that this fiber is associated with. There are many pattern highlights including an engineered chest stripe, as well as the introduction of heather yarns and a strong, solid color program. There is also a long sleeve offering in this product range.
The Dry Range collection features a solid grid textured polo shirt that brings a touch of modernity to a core style, with bold and fine stripes within patterns bridging the collection and bringing it all together.
An increased assortment of woven shirts play on updated men's patterns and styles. All of the colors are represented and each pattern is unique, thus offering the customer a reason to buy across all of the designs.
Sweaters are an increasing important category for fall. We have the introduction of a luxury Merino and Cashmere blended yarn with an incredible hand feel. It is offered in solid styles as well as a fine stripe and an updated argyle. We also have a solid ¼ zip with stripe inside collar, a textured diamond vest, a placed vertical argyle pattern, and a chest stripe offered in 100% Merino Wool. A new featured product will be the Pima cotton end-on-end ¼ zip sweatshirt with a brushed back, offered in a range of core colors.
A layering piece has been introduced this season to the outerwear category, offering more choice to the customer. A bonded fleece with four-way stretch jacket and vest with seam-sealing details use updated fabrications and design details to add increased interest within the performance outerwear. We also offer a luxury jacket in wool with a "Thinsulate" lining for increased warmth and added benefits.
For men's pants, we are offering classic, flat front cotton and polyester styles, as well as introducing a new five-pocket jean model in both Corduroy and Bedford cord in a range of seasonal colors. Cotton, polyester and spandex make an appearance in patterns in another flat front style, with a micro hounds tooth and a window pane design.
The women's collection has an increased design component to it for Fall 2012. Black, White, Pink, Lilac, and Haze Blue give a fresh palate and when combined in patterns, have updated the collection. There are long sleeve designs in both solids and stripes, as well as pieced styles echoing similar designs in the women's sweater offering.
We are using the same Pima cotton brush backed jersey base for the women's collection – this time, in a long sleeve full zip model. The introduction of a cotton modal blended yarn, as well as a continuation with merino, gives more depth to women's sweaters. Engineered patterns abound for a fashionable take on classic shapes. Exploded geometrics and a diagonal stripe create a broad collection rounded up by a black and pink full zip cable cardigan.
Women's outer wear takes its lead from the men's collection. We are using the same bonded fleece and four-way stretch across models with a new highlight; a featherweight rip-stop for a women's performance jacket. We have also reintroduced the full zip fleece, again giving more depth and laying options to the collection as a whole.
Cotton blends are used for women's pants with an array of updated details and seaming. The introduction of Baby Corduroy and a women's five pocket jean style, along with a "Tech" high performance pant serves to round out this category.
As always, in designing and building the collection, we have been conscious of the flexibility inherent within the designs enabling full merchandising and plenty of customer choice.
For biographical information on Jack Nicklaus or information on The Nicklaus Companies or Nicklaus Design, please visit Nicklaus.com.