Jack Nicklaus Apparel:
Inspired by JACK – Designed for YOU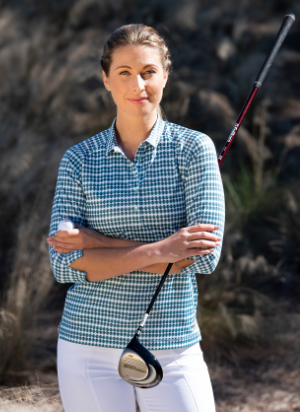 No name is more synonymous with greatness in the sport of golf than Jack Nicklaus, and no single person has changed the face of the sport more than Jack Nicklaus – the player, the designer, the philanthropist, and the good-will ambassador.
With that being said, our new 2013 apparel collection is proud to offer a highly recognized and iconic brand to golf enthusiasts everywhere. Our apparel collection, inspired by the man himself, balances tradition and trend by offering striking new designs, innovative technology, superior quality, and classic placement of the Golden Bear icon. Modern colors and styles clearly demonstrate a leap forward in the golf apparel industry.
The classic color palate has been further enhanced by adding innovative colors such as Kingfisher, Sunset, Fuchsia Berry, and Citrus. Action and elegance meet face to face by virtue of high performance and best in class fabrics throughout the line. Our fabric technology, Nicklaus Performance 18®, provides unique and performance enhancing features such as:
Body mapping ventilation in critical heat zones
Wicks moisture from skin for rapid evaporation
Water repellant
Blocks 95% of harmful UV rays
So whether you're heading out for a round of golf, having dinner with friends or simply lounging around on a Sunday afternoon, Jack Nicklaus is the ideal fit for those who desire an unprecendented combination of luxury, style, and performance.


Jack Nicklaus-branded clothing features the iconic Golden Bear logo. Nicklaus adopted the Golden Bear nickname early in his professional career—a record-setting career launched 50 years ago this year and one considered today to be the benchmark for greatness—and was inspired in part by Australian sportswriter Don Lawrence of the Melbourne Age. Lawrence was asked by IMG Founder Mark McCormack what he thought of the young star and the writer responded by saying Nicklaus looked like a "big, cuddly, golden bear." Nicklaus had attended Upper Arlington High School in his native Ohio, and the school's mascot was the Golden Bears. The combination inspired Nicklaus to adopt the moniker and thus was born one of the most recognized nicknames and logos in sports history.